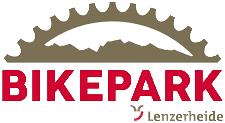 Voa Principala 37 CH-7078 Lenzerheide
Tel: +41 81 385 57 00
ITA
INFO
Lenzerheide Bike Park
5 freeride trails nel bike park
Durante l'estate del 2013 e del 2014, il Lenzerheide Bike Park è stato costruito tra la stazione intermedia Scharmion e la stazione a valle del Rothorn, con l'obbiettivo di offfrire a tutti i bikers un terreno variegato, accessibile ai prinncipianti e ai più esperti.
Cinque trails freeride con diversi gradi di difficoltà e genere ti aspettano! – dal semplice FLOWline, attraversando  piste di media difficoltà come la PRIMEline e la SHOREline fino alle piste nere STYLEline e la STRAIGHTline utilizzata per i campionati mondiali. I percorsi sono costantemente sotto manutenzione e sviluppati con l'aggiunta di nuovi elementi e  possono essere combinati a piacimento.
ENG
INFORMATION
Lenzerheide Bike Park
5 freeride trails in the bike park
During the summers of 2013 and 2014, the Lenzerheide Bike Park was built between the Scharmoin middle station and the Rothorn valley station, with the aim of offering all bikers a varied playground, from beginner to professional pilots.
Five freeride trails with different levels of difficulty and character await you – from the simple FLOWline, through the medium PRIMEline and SHOREline, to the black STYLEline and the black World Cup line STRAIGHTline. The routes are constantly maintained, expanded with new elements and can be combined at will.
DE
INFORMATION
Lenzerheide Bike Park
5 Freeride Strecken im Bikepark am Rothorn
Im Sommer 2013 und 2014 entstand zwischen der Mittelstation Scharmoin und der Talstation Rothorn der Lenzerheide Bikepark mit dem Ziel allen Bikern, vom Anfänger bis zum Profipilot, einen abwechslungsreichen Spielplatz zu bieten.
Fünf Strecken mit verschiedenen Schwierigkeitsgraden und Charakteren warten auf Sie – von der einfachen FLOWline, über die mittleren PRIMEline und SHOREline, bis zu der schwarzen STYLEline und der schwarzen Weltcup Strecke STRAIGHTline. Die Strecken werden laufend gepflegt, mit neuen Elementen erweitert und können nach Belieben kombiniert werden.
FLOWline
1 easy/blue
Character – flow country trail in less steep terrain with lots of flow, turns and small jumps. The trail suits every rider whether it's your first time or looking to take things to the next level. Ideal for beginners and families.
PRIMEline
2 medium/red
Speed, flow and airtime characterize the PRIMEline. The red route is the most popular route with our guests and demands medium to good riding. Thanks to its construction, it offers you the possibility to create new lines every day. So: let go from the brakes and enjoy adrenaline
STRAIGHTline
3 difficult/black
The world-famous rock garden, the big jumps and the root fields of the World Cup circuit challenge even the world's elite at the UCI MTB World Cup. The STRAIGHTline, designed by Steve Peat is a beast and demands every driver a lot. Doyou have the skills that this needs to tame this beast?
STYLEline
4 difficult/black
The STYLEline is for who enjoy airtime and for those who style is the holy grail of biking. Jumps of all kind are waiting for whips, no hander and co.
SHOREline
No. 5 medium/red
On our SHOREline you have the possibility to drive Northshores and dare bigger drops step by step.
| Rates | Adults | Children until 15 years |
| --- | --- | --- |
| Day ticket Lenzerheide | CHF 46.00 | CHF 23.00 |
| Day ticket Arosa Lenzerheide | CHF 50.00 | CHF 25.00 |
| Day ticket Arosa Lenzerheide und Chur | CHF 59.00 | CHF 29.00 |
| Season card Arosa Lenzerheide | CHF 310.00 | CHF 155.00 |
| Season card Arosa Lenzerheide und Chur | CHF 450.00 | CHF 225.00 |
| Gravity Card (valid in 16 bike parks)* | EUR 470.00 | EUR 222.00 |
APERTURA - OPENING BIKEPARK
| Lenzerheide bike park | Operation / Feast Day | Time |
| --- | --- | --- |
| 8 June – 20 October 2019 | Daily operation | 08.30 am – 04.50 pm |
| 26 October – 24 November 2019 | Weekend operation (incl. 1 November, All Saints' Day) | 08.30 am – 04.00 pm |
Note
*Gravity Card: Age groups adults (from 1999), youths (years 2000 – 2002) / children (years 2003 – 2012)
The opening of the cable cars depends on the weather and snow conditions.
Further operating hours and rates of Lenzerheide, Arosa and Chur mountain railways can be found here.