Situato nel Comune di Santa Margherita Saffora (PV), il Monte Chiappo raggiunge quota 1700 m ed è da tempo una delle mete preferite di sciatori ed escursionisti. Il bikepark è composto da tre piste da downhill all'attivo risalenti al 2015, per le quali la bici consigliata è quella da 160 mm e oltre. Tuttavia, i percorsi possono essere intrapresi anche con biciclette ammortizzate solo anteriormente poiché non vi sono parti inevitabili o eccessive. Si consiglia di indossare l'attrezzatura adeguata per proteggersi e girare nel park in sicurezza.
This bikepark is located in Santa Margherita Saffora (PV), where the Monte Chiappo reaches 1700 m above sea level. Since it's one of the oldest bikeparks in Italy, it has established itself as one of the most loved destinations for skiers and mountain bikers alike. It consists of three downhill trails. We suggest you wear protective gear so as to ensure your safety around the park.
BAT LINE
ITA
Difficoltà: media
Lunghezza: 3 km
Tracciato di livello intermedio con più varianti, un ritmo variegato e accessibile a chiunque. Si alternano tratti più fluidi con grosse sponde a sessioni di salti talvolta più tecniche, boschi e prati all'aperto, passando per ponti, rampe wall-ride e drop.
---

ENG
Difficulty: intermediate
Length: 3 km
This trail requires intermediate technical skills and has a varied rhythm. It alternates flow sections to jump sessions which are slightly at times more technical. Some parts are in the woods, whereas others take place in the open fields. There are bridges, wall-rides and drops for those who want to make it more difficult!
JOKER
TWO FACE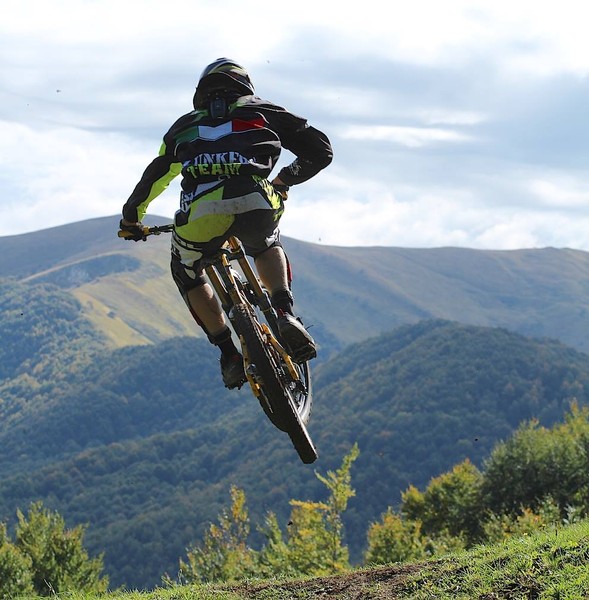 Giornaliero: 15 €
Giornaliero ridotto (bambini fino a 14 anni): 10 €
Pomeridiano (dalle 14): 10 €
1 corsa: 5 €
3 corse: 10 €
A/R: 15 €
A/R ridotto (bambini fino 8 anni): 10 €
One day ticket: 15 €
Reduced one-day ticket (up to 14 yrs old): 10 €
Afternoon (from 2 pm): 10 €
1 ride: 5 €
3 rides: 10 €
round trip ticket: 15 €
round trip ticked for children (up to 8 years old): 10 €
Aperto dal 5 giugno, sabato e domenica dalle 9:30 alle 17:30