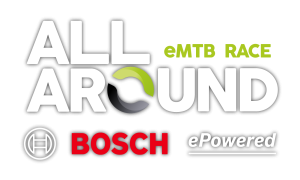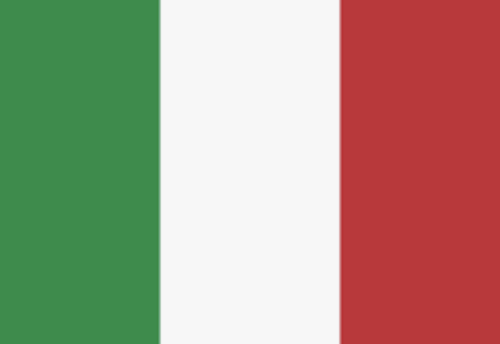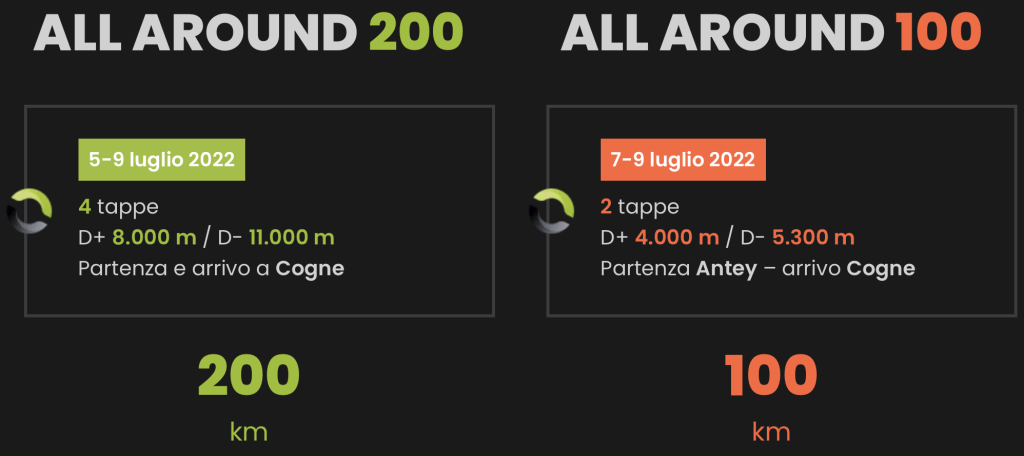 INFO (SEE MORE ON THE OFFICIAL WEB SITE!)
All Around eMtb è una gara, ma anche un'avventura da vivere insieme a rider da tutta Europa. Sul percorso condividerai la fatica, l'adrenalina e la bellezza. Alla fine di ogni tappa, i momenti di svago e relax all'All Around BOSCH Camp, cuore pulsante dell'evento.
Share your passion All Around!
Iscriviti adesso e riserva il tuo posto ad uno degli eventi E-Mountain Bike più importanti d'Italia nel 2022!
SAVE THE DATE  5-9 luglio 2022 • Cogne – Valle D'Aosta
All Around eMtb it is not just a race, but an adventure to live together with riders from all over Europe. On the way you will share the fatigue, the adrenaline and the beauty. At the end of each stage, moments of leisure and relaxation at the All Around BOSCH Camp, the beating heart of the event.
There are no opponents, only companions of adventure: share your passion All Around!
Sign up now and reserve your place at one of the most important E-Mountain Bike events in Europe in 2022!
SAVE THE DATE July 5-9, 2022 – Cogne – Aosta Valley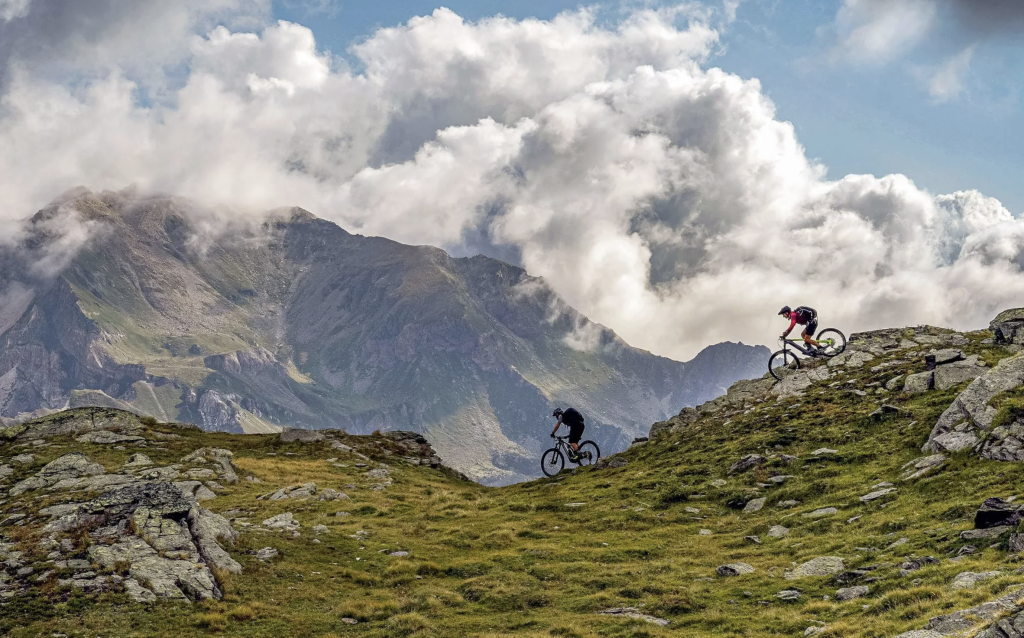 200 CHILOMETRI IN QUATTRO TAPPE: QUESTA È ALL
AROUND LA GARA DI E-MTB ALLA SCOPERTA DELLA
VALLE D'AOSTA
È in programma dal 5 al 9 luglio 2022 la prima edizione della GARA che porterà gli
ebiker a pedalare su single trail inediti della Valle d'Aosta, facendo "campo" a Cogne,
Gressoney, Antey e Valpelline. L'All Around Camp si sposterà di tappa in tappa per
accogliere i partecipanti per le premiazioni di giornata in un clima di vero happening
sportivo.
200 KM IN FOUR STAGES: THIS IS ALL
AROUND THE E-MTB RACE TO DISCOVER THE
VALLE D'AOSTA
The first edition of the RACE that will bring the
ebiker to ride on unpublished single trails of the Aosta Valley, making "camp" in Cogne,
Gressoney, Antey and Valpelline. The All Around Camp will move from stage to stage for
welcome the participants for the day's awards ceremony in an atmosphere of true happening
sporty.
4 NEW STAGES TO DISCOVER THE AOSTA VALLEY
Unique itinerary through valleys and passes among the most important 4000 m peaks of the Alps: Gran Paradiso, Monte Rosa and Cervino.
If you can manage independently a mountain outing of over 5 hours and over 1,500 metres D+,  if you can follow a GPS track on your mobile and you can you change an inner tube, then your level is eligible.
A unique place to rest, taste typical local products and share moments with other participants
Overnight stays and dinners are foreseen in the accommodation facilities and campsites of the 4 places involved in the race: Cogne, Gressoney, Antey and Valpelline.
I pernottamenti e le cene sono previsti presso le strutture ricettive e i campeggi delle 4 località toccate dalla gara: Cogne, Gressoney, Antey e Valpelline. Scopri le soluzioni di pernottamento disponibili:
Hotel: Prenota il tuo soggiorno in una delle strutture convenzionate selezionate dal nostro tour operator. Scegli la sistemazione più adatta alle tue esigenze in pochi secondi! CLICCA QUI E SCOPRI I PACCHETTI HOTEL. Troverai ogni dettaglio su costi, durata e servizi inclusi.
Campeggi: Abbiamo preparato un elenco di campeggi e aree camper in zona gara. Scarica la lista e procedi con la prenotazione in autonomia dove vuoi tu. CLICCA QUI E SCARICA LA LISTA DEI CAMPEGGI.
Strutture comunali: L'organizzazione mette a disposizione presso i palazzetti dello sport e le palestre dei comuni un servizio gratuito di pernottamento in brandina, prenotabile a info@allaround-emtb.comda un massimo di 50 iscritti. SCRIVICI PER PRENOTARE IL TUO POSTO.
I bagagli verranno trasferiti dall'organizzazione da una tappa all'altra.
Overnight stays and dinners are planned at the accommodation facilities of the 4 locations reached by the race: Cogne, Gressoney, Antey and Valpelline. Discover all the accomodation solutions:
Hotel: Book your stay in one of the facilities selected by our tour operator. Choose the accommodation that best suits your needs in a few seconds! CLICK HERE AND DISCOVER THE HOTEL PACKAGES. You will find every detail on costs, duration and services included.
Campsite: We have prepared a list of campsites and camper site in the race area. Download the list and proceed to book your selected option independently. CLICK HERE AND DOWNLOAD THE LIST OF CAMPSITES.
Municipal facilities:The organization provides a free overnight stay in a cot at the sports halls and gyms of the municipalities, bookable at info@allaround-emtb.com by a maximum of 50 participants. EMAIL US AND BOOK YOUR SPOT.

Baggage is transferred by the organisation from one facility to the next.
MORE INFO ON THE OFFICIAL WEB SITE!